The Dunkin' Donuts Coffee at Home teamed up with Olivia Wilde to showcase a coffee-fueled take on sustainability.
Coffee may be the power source that helps you rev up to start your day. But an installation in New York City this weekend is hoping to prove that coffee has the ability to supply power so something as substantial as an entire home. The House That Runs on Dunkin' is an intersection between the tiny house craze and the global movement toward eliminating waste and promoting sustainability by showing visitors it's possible to live luxurious while limiting traditional energy usage.
The approximately 275-square-foot home was designed by David Latimer, CEO of New Frontier Tiny Homes, and features skylights, a lofted bed, bathroom, living room, hideaway dining table, storage spaces, a full (at least by NYC apartment standards) kitchen with a range, a separate dining nook, a jacuzzi tub, and a fold-out patio.
"The architecture is incredible, it's really innovative," actress and filmmaker Olivia Wilde, who contributed to the interior design, told Food & Wine. "I brought some accents to it so that felt a little more like a home, but everything has been thoughtfully sourced, like the wood which is supposed to mimic the idea of a dark cup of coffee."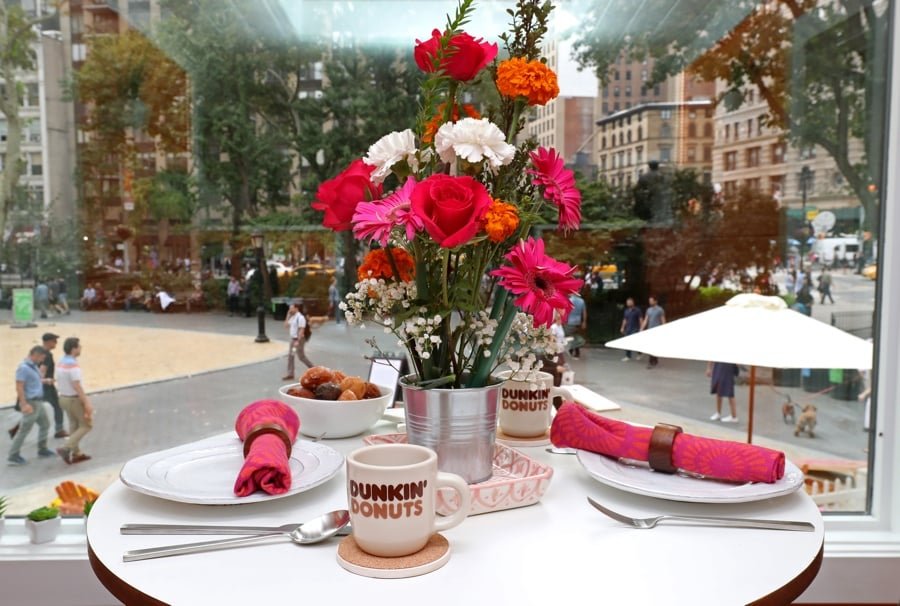 Despite the home's footprint, Wilde says the team did the math and it would be possible to host as many as ten people, proving that small spaces still have entertaining opportunities. The home takes on the Dunkin' coffee aesthetic even further in its design, with coffee-ground inspired hues inside and out, and bright orange and pink accents, many courtesy of Wilde, which echo the Dunkin' Donuts logo colors.
The fuel that powers the home's generator is made from an oil that's produced from spent Dunkin' coffee grounds, which comprises 80-percent of the final product, while the rest is alcohol. That generator makes it possible to have a whole range of amenities from the washer-dryer, to air conditioning, a refrigerator, and lighting, all powered by coffee. The recycled grounds were processed by Blue Marble Biomaterials, a company that custom develops products out of plant materials.
By Adam Campbell-Schmitt
Source:
https://www.foodandwine.com/news/dunkin-donuts-tiny-house-olivia-wilde